Indemnification clauses are central to your contract risk management. But even the best indemnity clause will not serve its purpose unless it coordinates with two other contract clauses: insurance requirements and liability waivers. In fact, your company's risk protection will collapse unless these three legs of indemnity, insurance, and liability are solid and coordinated —­ just as a three-legged stool will collapse if any leg fails.
This article explains how indemnity terms affect your insurance requirements and liability waivers and how each of those other terms affects your indemnity and each other. Exhibit 1 highlights where they are located in the American Institute of Architects (AIA) Contract Documents.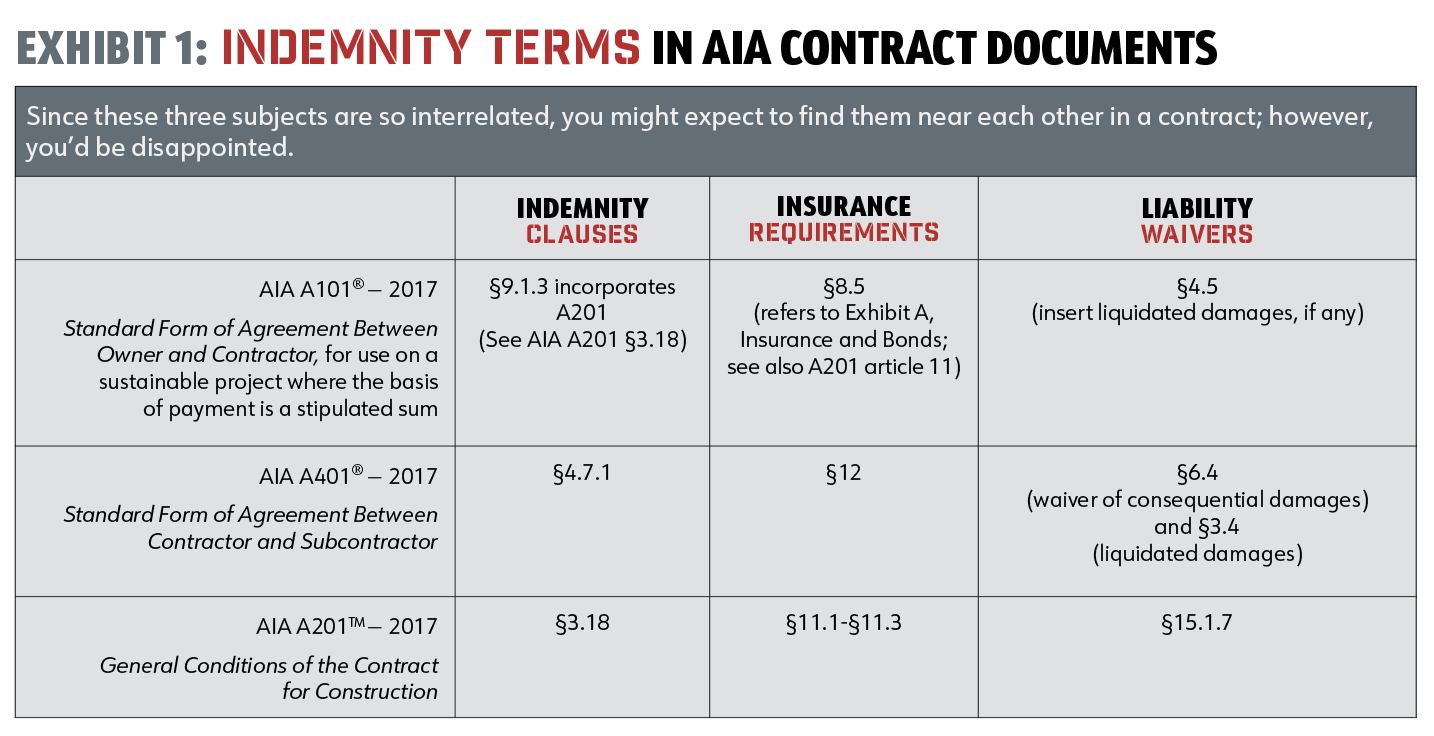 How the Stool Falls Over: A Real Nightmare
Assume you are a GC that is building a multi-tenant office building for an owner. You use the unmodified AIA Document A101® – 2017, Standard Form of Agreement Between Owner and Contractor and, since this form incorporates the general contract terms of AIA Document A201TM – 2017, General Conditions of the Contract for Construction, your contract contains these three risk management terms:
You indemnify the owner for losses caused by your negligence (AIA A201 §3.18.1).
The owner waives its right to collect consequential damages it may suffer from your breach of contract (AIA A201 §15.1.6). You give the reciprocal waiver to the owner in the same section.
You promise to maintain commercial general liability (CGL) insurance at agreed-upon limits (A101 Exhibit A, Insurance and Bonds, and AIA A201 §11.1.2).
The contract specifies your completion deadline, as the owner has promised fixed move-in dates to its prospective tenants. But problems arise during construction: a subcontractor's poor work puts your company behind schedule. If you miss your deadline, the owner will fail to deliver on time to its tenants. Those tenants will hold the owner responsible for the tenant's increased expense of finding temporary space.
The owner demands that you indemnify it for the sums it must pay to tenants for your delay. After all, your indemnity promise was designed to cover exactly this kind of loss — claims by tenants against the owner that your negligent delay caused.
These damages are recoverable because they were foreseeable. That is, any GC in your position would reasonably expect that an owner could suffer this kind of loss from delayed occupancy.
But wait: aren't these business losses that tenants suffer, from delayed occupancy, consequential damages? And didn't the owner waive its right to recover consequential damages? So, the waiver should protect your company from having to pay for the owner's losses, right? Maybe not.
The owner will argue (reasonably) that the indemnity trumps the owner's waiver. After all, what's the point of requiring a completion deadline if the owner can't enforce it? So which clause controls the situation? Does the owner's indemnity right include indemnification for consequential damages? Or does the consequential damage waiver limit the owner's indemnity rights?
Your contract has an internal conflict; the indemnity clause and consequential damage waiver cannot both be enforced as written. You will invest more time, frustration, attorney fees, and other expenses than desired to fight this battle — even if a settlement is reached short of trial.
So, what's your next move? You call your insurance agent, who reminds you that you decided against higher policy limits because, after all, you were not going to be responsible for consequential damages. You had not recognized that your indemnity promise could gut the consequential damage waiver.
Then your insurance agent explains that your existing coverage may not even be available. Your CGL coverage applies only if there is "bodily injury" or "property damage" as defined in the policy. Your agent explains that the tenant's claims represent neither bodily injury nor property damage.
Your nightmare has arrived, and it's far from over. Your company is facing uninsured liability for damages it never expected. Even if your insurance coverage applied, it would not be enough. Let's wake up from this nightmare and analyze the situation.
What Went Wrong?
The parties to the contract failed to recognize that indemnification is one of three contract subjects that stand or fall together. If you ignore any of these three subjects, then the risk management stool topples.