There are myriad tools available to help elevate your people, projects, and performance by boosting productivity and increasing efficiency. But perhaps none are more pervasive than cloud technology; from file sharing and document management to financials, project management, and everything in between, many contractors are using the cloud to help run at least some aspects of their business.
While some contractors may not be "all in" just yet when it comes to the cloud, the move is inevitable. Whether a business expects to make its move to the cloud this year, next year, or in five years, it is critical to begin preparing now.
This article examines how a move to the cloud can benefit a company's people, projects, and performance; dives into the phases of moving to the cloud; and explores the steps businesses can take now to make their eventual move easier.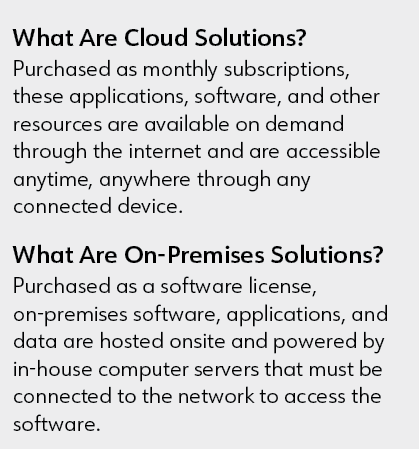 Cloud Technology Helps Your People
Tools
People need the right tools in order to complete their jobs efficiently, which is especially critical in construction, as the industry has long been impacted by a qualified worker shortage. Implementing the right mix of cloud-based tools can help ease the load for the current workforce while also supporting employee retention and recruitment.
Specific tools to consider includeNsolutions for preconstruction (e.g., estimating and building information modeling (BIM)), accounting and financial management, HR, and project management. Additionally, getting feedback from teams can help determine which solutions could help improve their day-to-day workload and productivity.
Recruitment
A workplace that values its employees and sets them up to succeed can help improve employee retention; if employees are happy, they're less likely to seek employment elsewhere.
Technology can also be used to recruit new employees. A cloud-based HR system can help streamline recruiting and interviewing, freeing up time for managers to be more strategic about hiring decisions, which can increase the chances an employee is a good fit for the team.
Technology can also help attract younger workers to the industry as the workforce is retiring at a faster rate than positions are being filled. Younger workers are increasingly seeking employers that implement the latest technologies and have a pulse on industry trends.
Mental Health & Wellbeing
Many in the industry have taken on increased workloads as businesses continue to struggle with filling skilled positions. Ensuring all employees have the tools and technology they need to complete their roles as effectively and efficiently as possible can go a long way toward easing this burden and improving employee satisfaction. It can also improve collaboration across the organization and reduce stress levels, positively impacting overall employee mental health and wellbeing.1
The Impacts of Cloud Technology on Projects
As projects become more complex, having the right technology tools in place is critical to delivering projects on time and within budget.
Monitoring & Tracking
Integrated cloud solutions can help closely monitor and track projects and alert teams when something has the potential to throw a project off schedule. Additionally, cloud technology also helps make it easier to keep up with the latest industry standards and regulations including building greener, more sustainable projects, as the increased efficiency results in less waste and rework.2
Cloud-based solutions such as accounting and project management software can help automate many processes, ultimately reducing errors and providing contractors with the visibility needed to make the best decisions to keep a project on track.
Stakeholders can set key performance indicators (KPIs) for a project and then utilize integrated cloud solutions to monitor these KPIs anytime, anywhere. Robust solutions include a dashboard that provides a visual snapshot of KPIs and other business metrics all in one place, resulting in easier, more intuitive access to project and accounting details.
Additionally, an alert system can quickly filter through large amounts of information to keep teams updated on what's most important, helping to get the right information to the right people at the right time. Companies can determine what to track, and when one of the tracked events occurs (e.g., when a deadline is approaching) the system triggers an email, desktop message, or text message notifying the right people of the issue so they can act quickly.
Efficiency
Cloud technology also increases efficiency throughout all phases of a project. When cloud solutions are integrated, data is connected, helping to ensure teams can rely on accurate real-time information to make project decisions. This helps reduce waste and project rework.
The latest cloud solutions can also help produce more efficient buildings and streamline maintenance and operations by making it easier to track building components and service throughout the project life cycle.
Ways Cloud Technology Can Enhance Performance
Cloud technology can help contractors meet and exceed expectations to deliver a quality experience to their clients and employees.
Utilizing the right technologies can increase collaboration throughout a company and boost performance across teams, including preconstruction, the field, and finance.